Center Street Water Main Improvements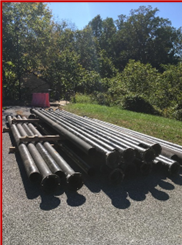 Center Street is located in downtown Mount Airy with Main Street on the western end and Ridge Road / Maryland Route 27 on the eastern end although the two ends are not connected as part of the area in between currently consists partly of underbrush and mowed lawn along with some working farmland through which an existing water main is located.
The Center Street Water Main Improvements project consisted of the replacement of 2,584 LF of existing 6-inch asbestos cement (also known as transite) pipe and 8-inch ductile iron pipe with 12-inch ductile iron pipe in Center Street and the replacement of 448 LF of existing 6-inch pipe with an 8-inch pipe in Cross Street.
Once completed, the project will also mark the completion of a series of Town water main projects resulting in the upsizing of the full length of the primary water main loop connecting each of the Town's three elevated water storage tanks.
The project also includes the replacement of all existing water service connections from the main to the property line as well as installing several new ones for anticipated future development along with the replacement of existing valves and fire hydrants along the route plus two additional fire hydrants.
During construction, a temporary water system was installed which maintained water service to the residences and businesses along the route plus the Mount Airy Police Department.