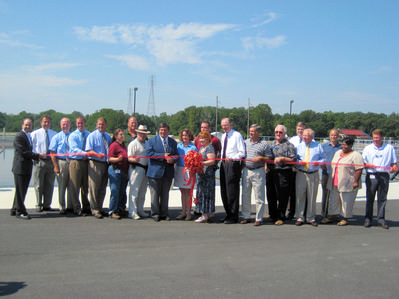 Laurel, DE
GMB has become a valued Trusted Advisor and Town Engineer to the Town of Laurel, Delaware. As a Trusted Advisor, GMB provides clients with on-going consultation and engineering services to support their goals, as well as improve the quality and sustainability of the community of Laurel.  Some of these services include project planning and development, design and construction document preparation, construction phase services, on-call consultation, development of technical standards and details, proposed development technical review services, and project funding assistance.
In March 2002, GMB was tasked with the expansion and upgrade of the Town's wastewater treatment plant.  At the same time, GMB prepared a needs-assessment of the Town water system and sewer system, and recommended a five-year plan for upgrades.  Shortly thereafter, a water line broke, and the Town was left without water service. As a result, several water projects were expedited and the firm began to build a strong relationship with the Town.
GMB designed a Supervisory Control and Data Acquisition (SCADA) system to remotely control and receive status updates for the Town's supply wells and elevated storage tanks.  This was followed by the installation of emergency generators for the wells to improve water service reliability.  Fluoridation treatment was added to enhance the Town's drinking water and reduce the incidence of tooth decay in consumers.
GMB then began the expansion and upgrade of the wastewater treatment plant. GMB was able to advance the Town with state of the art technology, the first of its kind in Delaware, by implementing a process of Biological Nutrient Removal (BNR) coupled with Enhanced Nutrient Removal (ENR).  This process increased the Town's treatment capacity from 0.3 million gallons per day (MGD) to 0.7 MGD.  GMB helped secure funding from the Delaware Department of Natural Resources and Environmental Control (DNREC) in the form of a  State Revolving Fund (SRF) loan and from the Delaware Clean Water Advisory Council (CWAC) in the form of a 21st Century Fund Grant for this important project.
Over the years, GMB has helped upgrade a significant amount of infrastructure within the Town, including stream crossings, storm drain systems, sewer extensions, new pump stations, new fire hydrants, water main valves, water meters, street curbs and gutters, sidewalks and handicap ramps.  GMB also developed a Standard Specifications and Details for Public Works Construction to assist the Town in maintaining quality utility infrastructure. In addition, GMB reviews new development plans on behalf of the Town prior to Council approval.
The close working relationship between GMB and the Town of Laurel has been imperative to each project. GMB truly values this relationship and looks forward to continuing to improve the quality of their community.