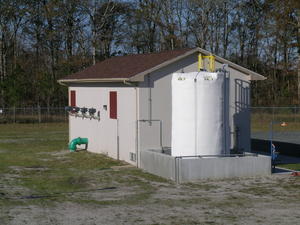 Pocomoke, MD
The existing 1.47 million gallon per day (MGD) capacity wastewater treatment ponds at Pocomoke City were incapable of providing the high level treatment and nutrient reductions necessary for the protection of the water quality of the Chesapeake Bay. Pocomoke City was requested by the Maryland Department of the Environment (MDE) to upgrade the treatment level from their ponds to reduce nitrogen concentrations to less than 8 mg/l. Pocomoke City lacked funds to implement the project. The goal of the project was to provide BNR levels of treatment for the 1.47 MGD wastewater treatment facility at the lowest possible cost impact to the customers of Pocomoke City. The U. S. Environmental Protection Agency (EPA) awarded a special $1.2 million dollar grant to Pocomoke City and the State of Maryland offered a Biological Nutrient Removal (BNR) Grant as well as a supplemental grant to help fund the construction.
The selected BNR process incorporated suspended-growth, a long sludge age and was constructed in an earthen basin with an integral clarifier. The BNR process is known as BIOLAC®. The new BNR process occupied only two (2) acres compared to the existing 80-acre ponds. The existing ponds were incorporated into the process scheme. One pond is used for flow equalization for the combined sewer system. The other pond is used for long-term storage of biosolids. The construction cost for the facility was $3.5 million. This represents a unit cost of $2.38 per gallon capacity which is about 1/3 of the typical unit costs of approximately $8 per gallon. The major accomplishment of this project was the ability to provide the high level of treatment for the full capacity at such a low unit cost, resulting in significant cost savings for Pocomoke City.
George, Miles & Buhr, LLC provided process, civil, architectural and structural design of the WWTP. GMB also provided the coordination of geotechnical testing as well as wetlands, erosion & sediment control, storm water management and forest conservation permitting.