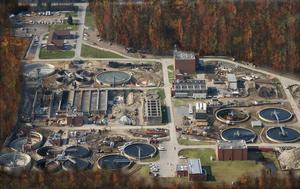 Charles County, MD
Charles County awarded the Joint Venture of GMB and KCI Technologies, Inc. the project design for the BNR upgrade in November 2000. The design satisfies the State BNR Total N goal of 8 mg/l and created treatment capacity to be able to meet anticipated TMDL and more stringent Bay cleanup goals at a modest increase in estimated construction cost. The design also implements "State of the Art" Four-stage Bardenpho Process to meet ENR goals. This process is capable of meeting the limits of current wastewater treatment technology (3 mg/l). The design process will result in a reduction of 5,300 pounds of nitrogen per day, or about 1.95 million pounds per year at a rated capacity of 20 MGD.
Upon completion, this project will provide Charles County with one of the most innovative, flexible, and "state-of-the-art" wastewater plants in Maryland. The application of unique design parameters, reuse/recycling innovations, and multi-phase nitrogen removal will uniquely position the County to meet changing Bay goals, meet anticipated local growth requirements, and most importantly, incorporate the ability to meet BNR and ENR requirements.
Charles County awarded Pizzagalli Construction, Inc. the project construction for the BNR/ENR upgrade in December 2003 and issued the Notice to Proceed in January 2004 at a total construction cost of $25,117,000.
The project is anticipated to be completed in July, 2006