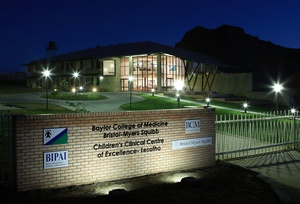 Lesotho, Africa
The first medical center dedicated to caring for HIV/AIDS infected infants and children in Lesotho, Africa opened Thursday, December 1.
George, Miles & Buhr, LLC (GMB), headquartered in Salisbury, MD, teamed with the Baylor College of Medicine in Houston, TX to design and manage the construction of a series of children's HIV/AIDS centers around the world. The Centers of Excellence are funded by Bristol-Myers Squibb and operated by the Baylor College of Medicine.
The newest center in Lesotho provides state-of-the art facilities for testing, treating, and monitoring patients in addition to training healthcare professionals. Lesotho has approximately 20,000 children infected with HIV (out of a total population of 1.8 million.)
GMB provided the overall project management for the facility, utilizing local architects and engineers to produce tailored construction documents. GMB also procured all the furniture, medical equipment, and computers, allowing the center to be completely operational when opened.
Lesotho's new Children's Center of Excellence is a two story 14,000 square foot building and includes a large outpatient client with 10 examination rooms, procedure rooms, pharmacy, laboratory, and training facilities.
The center is modeled after the Botswana-Baylor Children's Center of Excellence, which was completed in 2003. The Botswana clinic is now treating 1,400 children with antiretroviral (ARV) treatment, the largest concentration of HIV-infected children on ARV in any center in the world.
A similar center in Swaziland became operational on December 1, on the same day of Lesotho's opening. Swaziland's grand opening is planned for February. A center in Malawi is currently under construction and is scheduled to open in May 2006. And, a center in Burkina Faso is now in the planning phase, where they are interviewing a team of local architects and engineers. Two additional centers are planned for other locations in the developing world. Sites for these centers have not yet been determined.