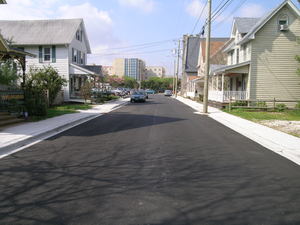 Lewes, DE
As a part of the Lewes Capital Improvement Plan, the Chestnut Street Rehabilitation addressed the need to improve the utilities and street condition of Chestnut Street in downtown Lewes. A preliminary utility study was completed in October 2000. This study found that no work was needed on the existing sanitary sewer. The water main, storm drain pipe, and catch basins needed to be replaced. The street needed to be re-graded to improve drainage, and the pavement, curb/gutter, and sidewalk all needed to be replaced.
GMB provided the engineering design for the total street and utility rehabilitation. The 6 inch/4 inch water main was replaced with an 8 inch water main. The black top hydrant at Orr Street was replaced. And a new 6 inch curb, 4 foot sidewalk, and wheelchair ramp was installed. The new sidewalk narrowed the street by approximately 4 feet, so one-way traffic with parking on both sides was implemented.
The street rehabilitation construction cost $175,560. The utility rehabilitation construction cost $204,710. Total construction cost $380,270.