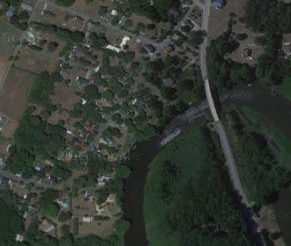 In 2013, GMB was contracted to develop green infrastructure design and construction plans for water quality projects located along the Broad Creek in Bethel, Delaware.  The Broad Creek is tributary to the Nanticoke River and the Chesapeake Bay.
In March 2012, Delaware's Phase 2 of the Chesapeake Bay Watershed Implementation Plan (WIP) was issued. The WIP develops pollution reduction strategies within the Nanticoke River Watershed, including the Broad Creek.
This project meets specific goals of the WIP for retrofitting within "legacy" urban areas of the Chesapeake Bay drainage basin, for green infrastructure improvements, and for restoration projects within the Nanticoke Watershed, including the Broad Creek.
The following areas of the Bethel Historic District were identified as target areas for implementation of green retrofits for water quality improvement of the Broad Creek.
Main & Vine St Intersection – Infiltration with Underdrain Connection (Phase 1)
Vine St – Linear Bioretention (Phase 1)
Main St Reconnection with Natural Channel Design (Phase 1)
Eroding Private Shoreline – Livable Shoreline (Phase 2)
South St/Town Wharf – Bioretention Planters (Phase 2)
Town Park and Traffic Island Bioretention (Phase 2)
This project was awarded grants through the National Fish and Wildlife Foundation (NFWF), and the Department of Natural Resources and Environmental Control (DNREC) Delaware Clean Water Advisory Council.  GMB assisted in the procurement of the DNREC grant and administration of the funding, in addition to the technical design.